Low carb "Sugar" Cookies
(Sugarless, gluten-free, grain-free)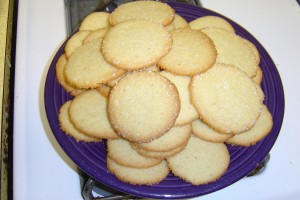 Ingredients:
* 1 1/4 cups almond flour/meal (the blanched type creates the most traditional looking cookies)
* 1/2 cup Splenda
* 2/3 cup erythritol (If you do not have erythritol, they can be made with 1 full cup of Splenda)
* 1 egg
* 1/2 teaspoon butter flavored extract
* 1 teaspoon vanilla extract
* 1/4 cup unsalted butter, softened
* granulated erythritol (or combination erythritol and splenda) for cookie tops*
Preheat oven to 300°F.
Cream the sweeteners with the butter using a mixer. Add egg and flavorings. Mix until smooth. Add almond flour and stir until well mixed.
Form dough into ¾ to 1 inch diameter balls (about 20-24) and space evenly on a parchment paper or silpat** covered cookie sheet. Place a small amount of granulated erythitol (or erythritol and splenda combo) in a small bowl. Take a glass and coat the bottom lightly with oil or non-stick spray. Dip the bottom of the glass in the bowl to coat it. Use the sweetener-covered glass to press down on each cookie ball to flatten it into a silver-dollar size. Re-dip the glass in the sweetener between cookies to recoat it. Take care to not make them too thin or they will brown too much. You can also sprinkle a little extra sweetener on the tops of the cookies once they are flattened if you'd like.
Bake at 300°F for 16 minutes or until the edges of the cookies are very slightly browned.
Remove the baking pan from the oven and let the cookies cool on the pan for 6 minutes.
At this point, using a very flat pancake turner or spatula carefully remove each cookie to a wire rack. If they are still to fragile at this point, wait a few more minutes. Cool well on the wire rack.
Once cooled, these cookies are crunchy and buttery.
This recipe doubles well.
*granulated erythritol provides the crunchy crystals for the top of the cookie, but creates a cool mouth feel that some people find strange. Mix half and half with splenda to lessen that effect or leave it out if it bothers you.
**Silpats are non-stick silicone baking mats. Parchment paper is available in most grocery stores near the foil. Use one or the other for most low-carb baking.
Content © 1999-2008 Elliott Health Care, All Rights Reserved.